February 2023
Heart Attack vs Cardiac Arrest.. Dr. Sinha explains the difference-Listen here on Apple Podcasts
It's Your Health Radio on Apple Podcasts
January 2023
Dr. Abhishek Sinha offers insight into heart valve disease in an article on the Website "Eat This, Not That". you can read the entire article here: Signs Of Heart Valve Disease
October 2021
Listen to Dr. Abhishek Sinha on the "It's Your Health Radio" Podcast discussing TAVR – A New Heart Valve Replacement Procedure at Henry Mayo
August 2021
Our very own Dr. Abhishek Sinha was featured in the press recently along with Henry Mayo Newhall Hospital, where he founded the structural heart program. See links below. Dr. Sinha is one of the most experienced TAVR operators in the area and performed the first ever TAVR at Henry Mayo Hospital in late June 2021.
https://signalscv.com/2021/08/henry-mayo-acquires-new-cardiac-technology/
https://www.hometownstation.com/santa-clarita-news/community-news/henry-mayo-announces-availability-of-alternative-to-open-heart-surgery-386017
March 2018
Congratulations to Dr. Abhi Sinha, who recently performed his 100th TAVR (Transcatheter aortic valve replacement) as primary operator. TAVR, also called TAVI (transcatheter aortic valve implantation), is a less invasive procedure that is designed to replace a diseased aortic valve and get you back on your feet faster. Only a TAVR doctor can tell you if this procedure is right for you and we are delighted to offer this expertise at Cardiovascular Consultants Medical Group.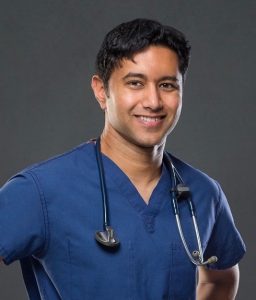 Check out Dr Shervin Sadrpour on RadioMD.com
https://radiomd.com/henrymayo/item/37219-electrophysiology-part-of-your-heart-care-team